Proyectos de ingeniería termosolar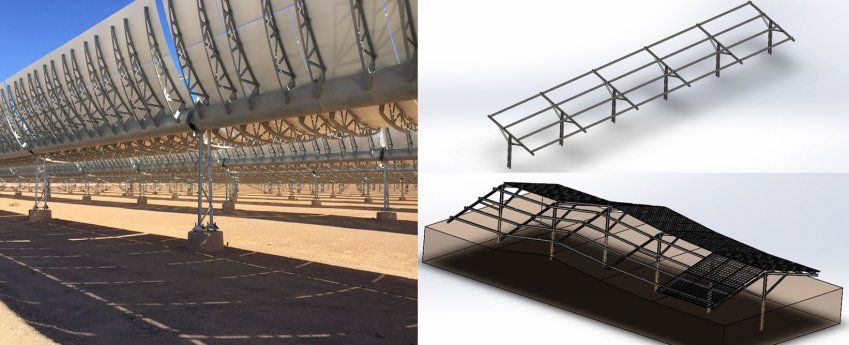 Ingeniería en el mercado termosolar: diseño, proceso y producto
Desde METALSEC ponemos al servicio de nuestros clientes el conocimiento y la experiencia necesaria para poder desarrollar con éxito los proyectos de ingeniería en la Energía Solar de Concentración (CSP) dentro del apartado de las estructuras metálicas que conforman el campo solar.
Proyectos de Energía Solar de Concentración
Nuestro equipo de ingenieros dispone de experiencia en la realización de proyectos de ingeniería termosolar, para el desarrollo del producto. Llevamos desde el año 2006 trabajando en las diferentes tecnologías de producto, maximizando los ratios de eficiencia.
Componentes metálicos para proyectos CSP
El equipo de METALSEC ha participado en la fabricación de componentes metálicos para la práctica totalidad de proyectos CSP, en cualquiera de sus elementos, tanto a nivel local como internacional.
Proyectos de ingeniería termosolar y fabricación de estructuras
Asimismo, en METALSEC desarrollamos los procesos de fabricación necesarios para la manufactura de cualquier tipo de estructura metálica en los proyectos termosolares. Realizamos los procesos de ensamblado que se ejecutan en el campo solar, de forma previa a la erección de los conjuntos montados en la misma obra.
En la ejecución de los proyectos de ingeniería, diseñamos y optimizamos el Supply Chain inherente a cualquier proceso de aprovisionamiento de estructuras metálicas en proyectos de energía solar de concentración.
Servicio Project Management
Gracias a la dilatada experiencia internacional de nuestro equipo en el área del Project Management, abarcamos desde la selección de los proveedores más adecuados a la fabricación, hasta el control bajo los parámetros más exigentes de calidad.
Content inactive until the acceptance of the marketing cookies. To display correctly, access the configuration and activate the specific cookie.